Looking for a delicious and stress-free way to enjoy the outdoors with your friends and family? Look no further than Arista's picnic catering services.
Perhaps you are planning a family reunion picnic or a company event with the team. Arista's picnic catering specialists are ready to provide a creative and exciting experience that will allow you to relax and enjoy your guests. We provide timed delivery to your home or, perhaps, the park as well as full service staffing if you want that extra special touch.

Below are some of our most popular picnic menus. ARISTA Catering is fully licensed to serve full wine, beer and spirits options.
So give us a call or request a quote to plan your next outdoor culinary adventure.

Build your own
American Classics Barbecue
Southern Fried Chicken
Barbecued Chicken
Grilled Bratwurst served with sauerkraut and grilled onions
Grilled Kielbasa Polish Sausage
¼ Lb. All-Beef Cheeseburgers
Barbecued Pulled Pork Sandwiches
All-Beef Hot Dogs
Baby Back Ribs 
BBQ Beef Brisket 
Chicken Kabobs 
Grilled Chicken Breast Sandwiches 
Turkey Burgers 
Veggie Burgers 
Baked Beans
Caesar Salad
Cole Slaw
Corn on the cob
Fresh Fruit Salad
Garden Tossed Salad
German Potato Salad
Gouda Mac and Cheese
Greek Pasta Salad with Feta
Potato Chips
Potato Salad
Watermelon Slices
Grilled Pineapple Wedges 
Add a
Cotton Candy Machine
to your event!
Cotton Candy Machine 
Snow cone Machine
Generator Extra 
Call For Quote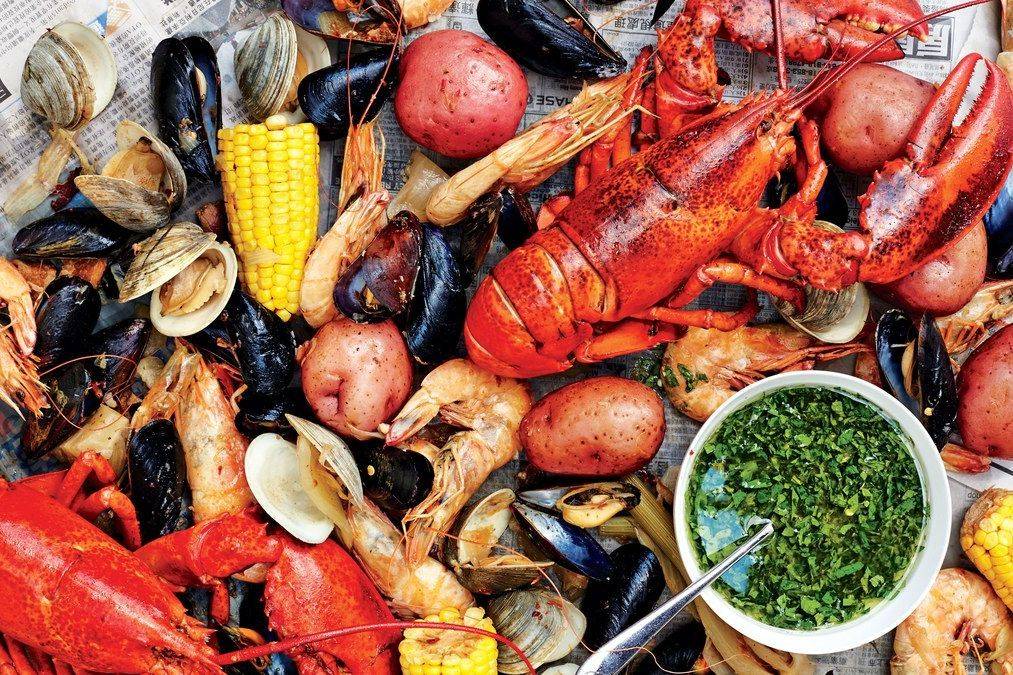 Clam Bake
Caesar Salad
Steamed Clams with drawn butter & clam broth
Steamed Mussels in garlic & wine
Sz 1¼ lb. Hot Boiled Lobster & Lobster tails (larger lobsters available)
¼ Rotisserie Chicken
Sweet Corn on the Cob
Fresh Homemade Coleslaw
Strawberry Shortcake
Bottled Water
Lobster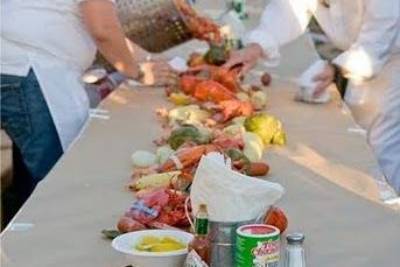 Apps:
Corn tortilla chips with salsa and guacomole
Clams & Mussels steamed in herbs and white wine
Served with grilled french bread
seared marinated tuna swerved w/ a soy dipping sauce wasabi and pickled ginger
Dinner
1. 1/4 lb steamed lobster w/melted butter
Grilled free range chicken w/bbq glaze
Garlic and basil red potatoes
Corn on the cobb
Dessert Strawberry shortcake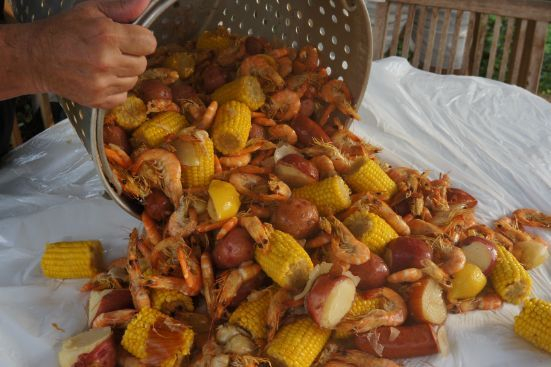 Raw Bar
Chilled Peel and Eat Shrimp
Succulent Native Oysters and
Cherrystone Clams on the Half Shell
Lemon Wedges, Miniature Tabasco, Cocktail Sauce
Miniature Crab Cakes Remoulade, Grilled and Raw Vegetable Display
Cheddar and Caramelized Onion Dips
(One Hour Consumption)
Dinner  (Tables Set with Lobster Bibs and Appropriate Seafood Utensils)
White Clam Chowder, Marinated Beefsteak Tomatoes, Sweet Onion Vinaigrette,
Classic Cabbage Slaw, Greek Cucumber Salad,
Green Bean, Yellow Pepper and Bacon Salad, Oregano Vinaigrette
From chafing dishes:
Fresh Maine Lobsters, Steamed Black Mussels and Cherrystone Clams
Mesquite Grilled: Rosemary-Lemon Chicken Breasts, New York Strip Steaks,
Steamed Sugar Snaps with Pearl Onions, Boiled New Potatoes,
Corn on the Cobb with Drawn Butter, 
Cornbread, 
Watermelon Boats Filled with Fresh Fruits,
Pumpkin-Pecan Bread Pudding, 
Apple Pie, Whipped Cream,
Carrot Cake, 
Blueberry Cobbler
Moist Towel Service Is Provided Following This Bountiful Feast
Mugs of Steaming Coffee, Decaffeinated Coffee, Tea, Iced Tea
Note: A Minimum of 50 Guests Is Required for Buffet Service.
If the Final Guarantee Is Less Than 50, the Price per Guest Will Be Increased by 25%
International Picnic Catering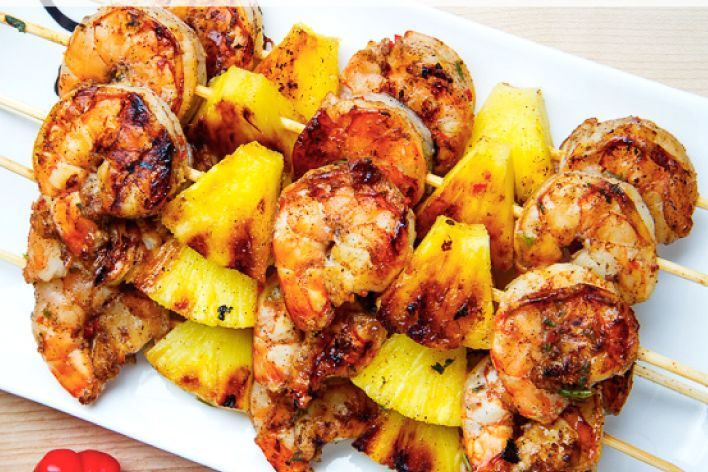 SALADS (Choose 2)
Macaroni Salad
Pineapple-Carrot Salad
Ambrosia Salad
Sweet Potato Salad
Tomatoes with Maui Onions
Green Salad with Papaya Seed Dressing, ranch or 1000 isle
COLD PLATTERS (Choose 1)
Ahi Poke
Lomi Lomi Salmon
Poached Salmon with Tropical Fruit Salsa
HOT ITEMS (Choose 2)
Teriyaki Chicken
Nut Crusted Mahi Mahi
Guava Chicken
Chicken Long Rice
Kalua Style Pork
Sweet and Sour Pork Meatballs
Sweet and Sour Spareribs
Fish and Beef Skewers w/Sauces: Green curry, peanut, teriyaki
SIDES (Choose 2)
Tropical Fried Rice
Steamed Mixed Vegetables
Sweet Potatoes
Coconut Rice
SWEETS (Choose 3)
Tropical Fruits
Tropical Chocolate Brownies
Pineapple Upside down Cake
Maui Pineapple Tarts
Macadamia Nut Tarts
Kona Coast Chocolate Mousse
Coconut Cake
Banana bread
carrot cake
Grilled Pineapple wedges
Coconut Pudding – Huapia
Optional Extra Menu Items
Coconut Tilapia
Shrimp Kabobs
Herbed Slow Baked Salmon, or Teriyaki Glazed Salmon or Cedar Planked Salmon
Teriyaki Boneless Chicken Thighs
Polynesian BBQ Chicken 
Charbroiled or Teriyaki Boneless Chicken Breasts
Pulled Pork
Hawaiian Fresh Fruit Display
Fresh Fruit Salad
Pineapple Upside Down Cake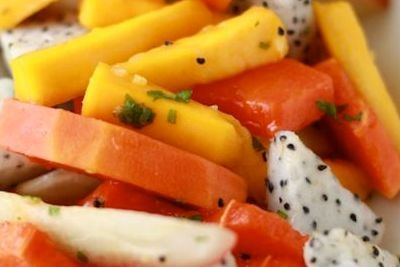 Includes:
Tender Teriyaki Chicken Breasts
Polynesian Shrimp Skewers: Shrimp and Cut Vegetable kabobs
Khalua Pork – 
Sweet Coconut Rice with Slivered Almonds
Tropical Grilled Vegetables
Lush Island Salad Bar: Myriad of Fresh Vegetables such as: Romaine, Spring Mix Greens, Tomatoes, Cucumbers, Radishes, Red Onions, Corn, Broccoli, Cauliflower, Mushrooms, Cranberries, Almonds, Jicama and more! With Creamy Ranch and our own Mango Vinaigrette Dressing
Fresh Hawaiian Rolls and Butter
Spectacular Tropical Fruit Display with Watermelon, Cantaloupe, Honeydew, Pineapple, Oranges, Grapes, Strawberries and other Seasonal Fruits
50 person minimum
Optional Extra Menu Items
Coconut Tilapia
Shrimp Kabobs
Herbed Slow Baked Salmon, or Teriyaki Glazed Salmon or Cedar Planked Salmon
Teriyaki Boneless Chicken Thighs
Polynesian BBQ Chicken 
Charbroiled or Teriyaki Boneless Chicken Breasts
Pulled Pork
Hawaiian Fresh Fruit Display
Fresh Fruit Salad
Pineapple Upside Down Cake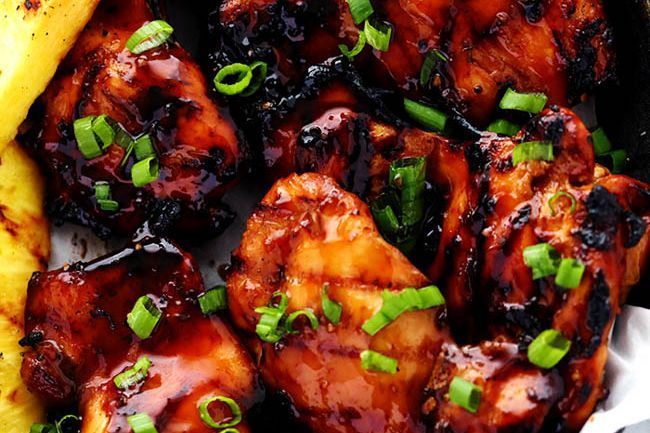 Bahama Wedding Beach Party
Cocktail Hour
Freshly-Shucked Oysters and Clams on the Half Shell, Cocktail Sauce and Lemon Wedges, 
Grilled and Raw Vegetable Display, with Guacamole, Thousand Island Dip, Mango Chutney, Smoked Island Seafood Display
Ginger-Flavored Peanut Sauce, Warm Blue Crab Dip Lahvosh & Assorted Crackers 
Dinner 
Cuban Black Bean Soup
Jicama and Pineapple Salad with Fresh Coriander, Beefsteak Tomatoes and Bermuda Onions with Basil Vinaigrette,
Sweet Potato Salad, 
Scallop, Bay Shrimp and Queen Conch Ceviche,
Entrees (choose 2)
BBQ Rum-Basted Pork Loin Carved to Order, Mango Chutney,
Jamaican-Jerk Spiced Barbecued Game Hens, Tomato Soy Barbecue Sauce,  
Tangerine-Rosemary Glazed Bahamian Coconut Shrimp,
Grilled Key-Lime Marinated Flank Steak with Chipotle-Honey Sauce,
Sauteed Red Snapper with Mango-Red Onion Relish,
Sides (choose 3)
Napa Cabbage, Snow Pea, and Carrot Saute,
Butternut Squash with Walnuts and Ginger,
Saffron Rice Pilaf with Raisins and Toasted Cashews,
Platters of Banana Bread, Corn Bread and Whole Grain Rolls,
Tropical Fruit Display to Feature Mangoes, Papayas, Pineapple, Bananas, Kiwi and Oranges with Pina Colada Dip in Coconut Halves,
Dessert (choose 3)
Key Lime and Banana Cream Pies, 
Puerto Rican Caramel Flan,
Coconut Custard
Pineapple Crunch Cobbler Rum Flavored Whipped Cream,
Rum Raisin Rice Pudding Chocolate Truffles with Myer's Rum
Freshly-Brewed Coffee and Decaffeinated Coffee Selection of Teas, Island-Spiced Iced Tea
Alcoholic Beverages Priced Separately
Islanders, Cocktails, Rum Runners, Pina Coladas,
Fruit Daiquiris, and Dos Equis From Mexico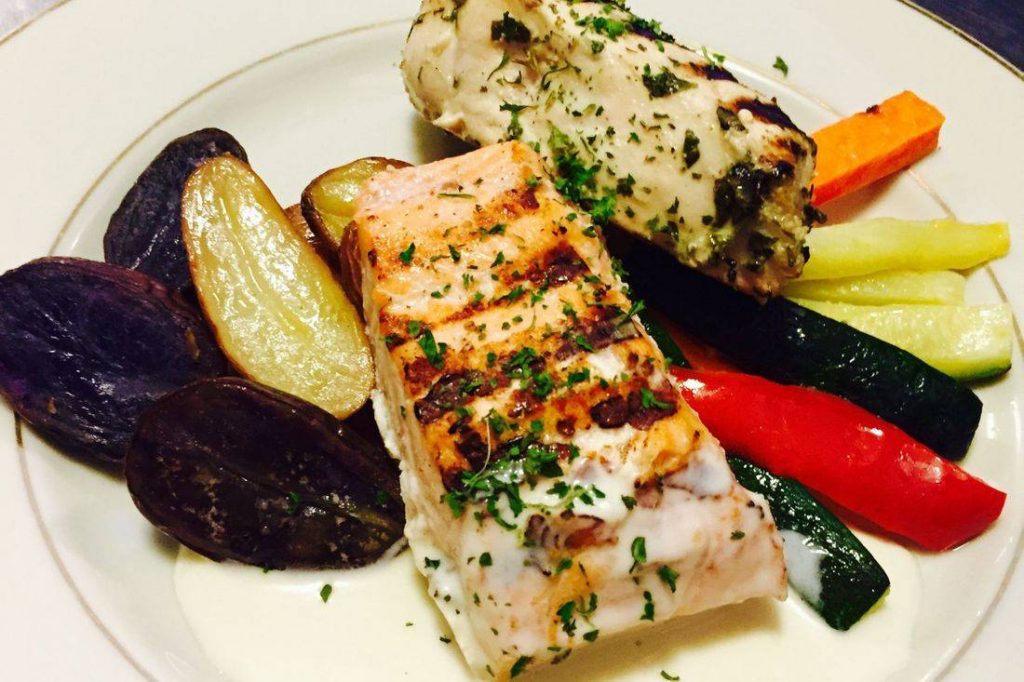 American Sides(Choose 2)
Potato Salad, 
Southern Cole Slaw, 
Green Beans Vinaigrette,
Mozzarella and Tomato with Pesto, 
Pasta Salad with Sundried Tomatoes,
Caesar Salad
Cucumber and Dill Salad
From the BBQ (choose 2)
Black Angus Burgers,
Top Sirloin Steaks,
Salmon Fillet, 
Breast of Chicken
Served with
Corn on the Cobb, 
Baked Beans

Garlic Bread 

condiments, lettuces, tomatoes, onions
Desserts  (choose 1)
Strawberry Shortcake 
Apple tarts, 
Brownies & Lemon Bars
Chocolate Chip Cookies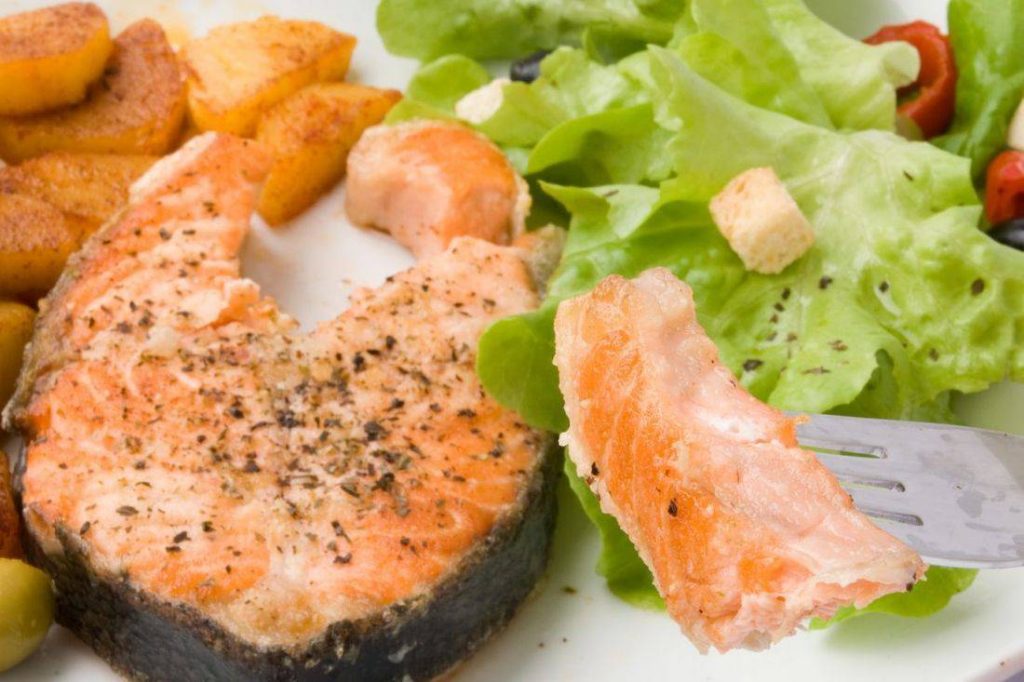 Build-Your-Own Nine Lettuce Salad
Broccoli Buds
Baby Corn
Sliced Mushrooms
Grated Carrots
Hearts of Palm
Green Pepper Rings
Sprouts
Sunflower Seeds
Western Ranch
Fresh Herb Dressings
Three Pea Salad
Couscous Salad with Fresh Mint Radish and Walnuts
Penette Pasta with Sundried Tomatoes and Pesto
Grill to order stations:
(Select Two)
Swordfish Steaks
Chunky Mango-Basil Salsa
New York Strip Steaks
Lamb Chops
Thick-Cut Pork Chops
 Lemon and Lime Chutney Chicken Breasts

From Buffet:  (Select Two)
Marinated Sea Bass Fillets
Baby Back Ribs BBQ Sauce
Honey-Basil Chicken Game Hens
Alaska Salmon lemon butter sauce
Accompanied by
Seasonal Vegetable Medley
Roasted Ears of Sweet Corn – Drawn Butter
Baked Potatoes – Crumbled Bacon, Sour Cream, Chives, Shredded Cheddar Cheese
Jalapeno Cheese Biscuits
Baguettes
Desserts
Shortcake Station
Shortcakes, Lemon Zest Pound Cake with Vanilla Peaches, Blueberries, Strawberries, Cherries, and Bananas,
Fresh-Cut Finger Fruits
Dark Chocolate Dipping Sauce
Freshly-Brewed Coffee/Decaf Coffee Hot Teas
Iced Tea
Contact
brett@aristacatering.com
(206)250-5143
Address:
1502 Queen Anne Ave N Suite B
Seattle, WA
98109