BOX LUNCHES SEATTLE
SANDWHICH CATERING
ARISTA box lunches are freshly made daily using the best local ingredients. Potato chips, one brownie or cookie, and bottle of water are all included. Also included in each box are a napkin and condiments.


Grilled Chicken Sandwich Box Lunch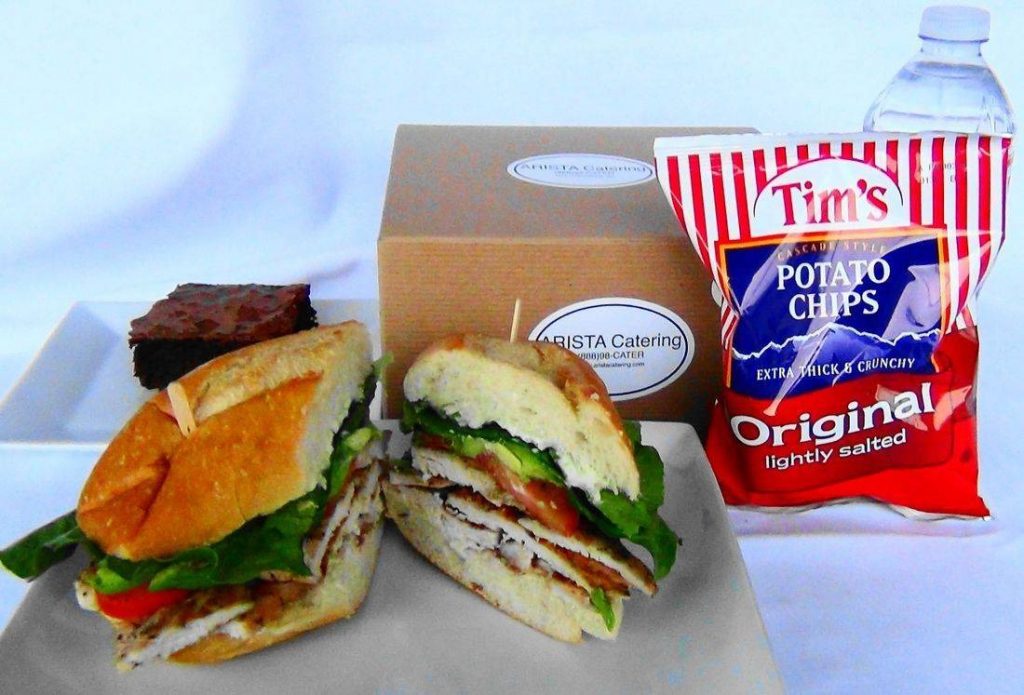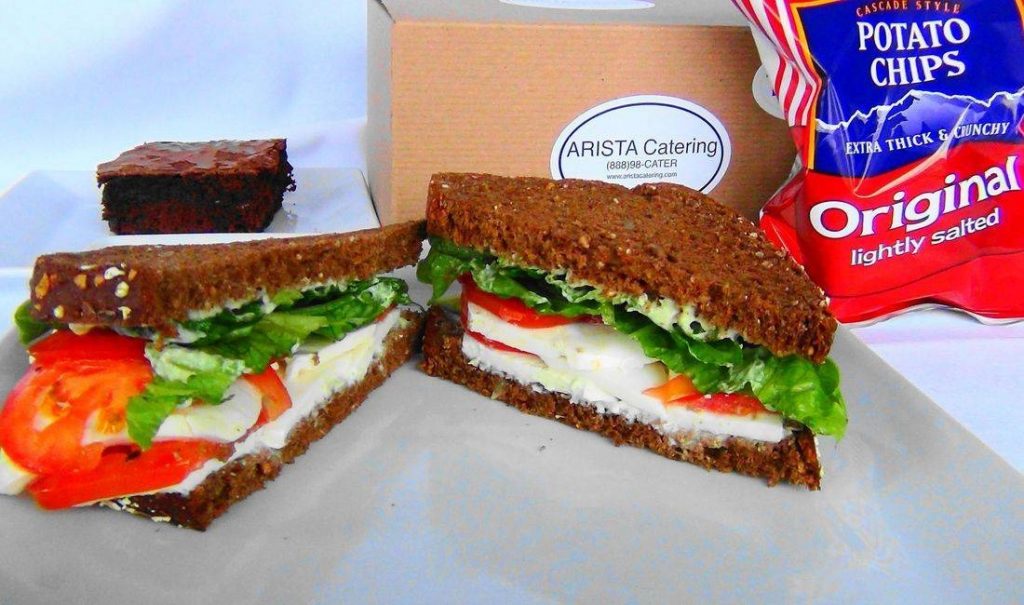 Caprese Sandwich Box Lunch

Veggie Sandwich Box Lunch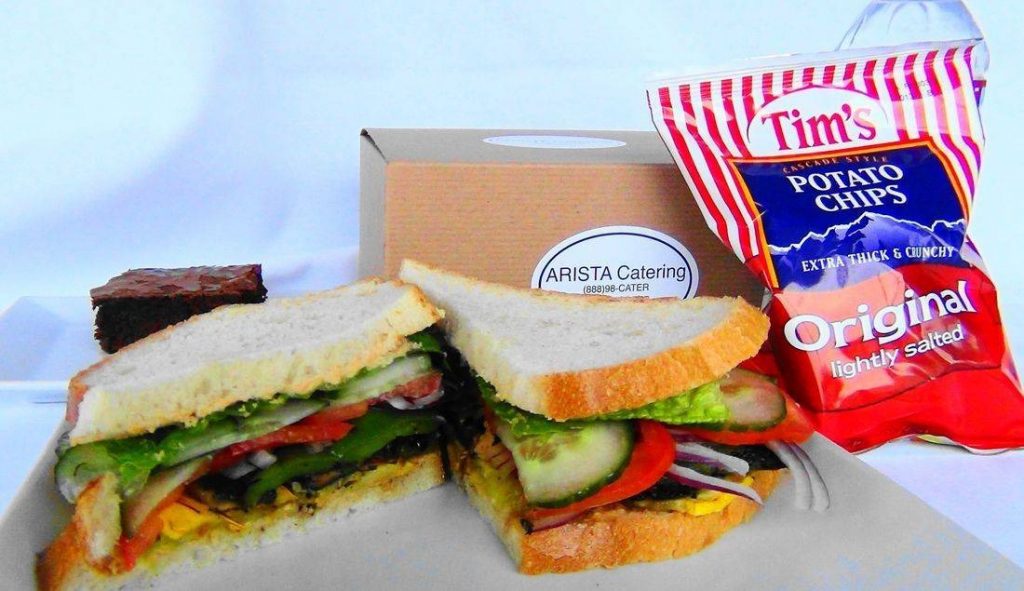 Smoked Salmon Sandwich Box

Grilled Chicken Wrap Box Lunch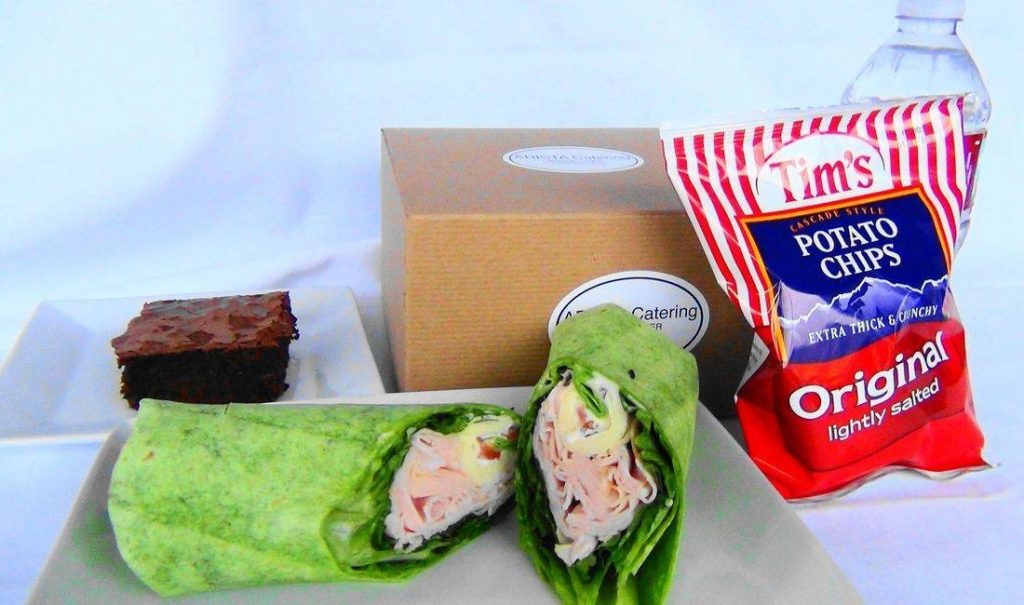 Turkey Provolone Wrap Box Lunch

Albacore Tuna Wrap Box Lunch

Rotini Pasta and
Vegetable Salad
Box Lunch

Grilled Vegetable and
Cous Cous Salad
Box Lunch

Vegan Green Apple
Mixed Green Salad
Box Lunch

Grilled Chicken Caesar Salad Box Lunch
Choose Box Lunches for a Delicious Addition to Any Event
Arista Catering offers many options for a delicious box lunch in Seattle that can make a wonderful addition to any event. Whether you're planning a conference, hosting a family get-together, or even digging into an all-day work session, our lunches make for a satisfying meal that everyone will enjoy.
What Kinds of Box Lunch in Seattle Are Available?
Our box lunches include a hearty sandwich or salad, potato chips, a brownie, and bottled water. You can choose from sandwiches made with ham, roast beef, smoked turkey or grilled chicken. There are even veggie, smoked salmon, and Caprese options. Each sandwich is made with cheese and plenty of fresh vegetables on various pieces of bread. Wraps are also available with shrimp, turkey, grilled chicken, and tuna. For people who prefer salads, our chef, grilled chicken Caesar, grilled vegetable, pasta, and vegan green apple varieties provide a number of delicious choices. Ask about our sandwich platters as well.
Where Do You Deliver and What Is Your Minimum Order for Delivery?
We offer convenient box lunch delivery in and around the Seattle area. We generally require a minimum order for delivery based on the location. Talk to your catering consultant about this for more information. Delivery fees vary based on the number of meals, the destination and travel time, the week's day, and the time of day. Ask about our Express Service for smaller gatherings.
Do You Deliver on Weekends?
We deliver on weekends, but we require a minimum order of $500 plus tax and an extra gratuity. Please contact a catering consultant to discuss your situation and receive further details. Delivery rates shift based on your location, and we charge a bit more if we travel farther to get to you.
Can You Accommodate Dietary Restrictions?
At Arista, we provide a healthy meal in every one of our box lunches in Seattle. We use fresh, local ingredients and make our lunches daily, so they're of the highest quality. We can, however, accommodate dietary restrictions and special needs if you let us know in advance. Tell your consultant if any of your guests require vegan, gluten-free, or lactose-free options or have other special needs. Some of our sandwich and salad choices are already vegetarian or vegan, and we can help you ensure all your guests have meals they can enjoy fully.
Are Your Prices Reasonable?
Our prices for boxed lunches are indeed reasonable. Plus, you can have delicious food delivered right to you, so you don't have to spend time shopping, assembling sandwiches or salads, and serving a meal. Instead, you can focus on your event and guests and leave the food preparation and delivery to us. You'll get great food without all the hassle, which is a bargain
Contact
brett@aristacatering.com
(206)250-5143
Address:
1502 Queen Anne Ave N Suite B, 
Seattle, WA 
98109