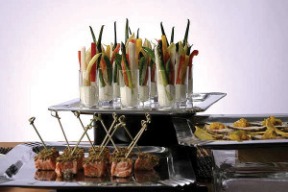 About ARISTA
Fine Catering has always been a part of the Seattle area's heart and soul. With an appreciation for the uncommon, a love of the old and new worlds, and magical cuisine, the Northwest has no other caterer like Arista Catering. Our company provides you with not just an event, but a production and we can do it withing your catering budget. Arista Catering is a full service banquet catering company specializing in unique and delicious culinary creations, exceptional service, and memorable event productions. Arista Catering has done catering in large and small event venues in from Seattle to Tacoma.
Whether your event calls for a cocktail reception for 50 or a plated dinner for 2000, our event planning services are tailor-made to suit the creative and organizational needs of you and your guests while staying within your catering budget.
Personalized Menus
Arista Catering believes the cuisine featured at your event should exceed the diverse expectations of your guests. Our chefs create personalized menus featuring a wide range of internationally flavored, sustainable specialty foods from fisherman, farmers, ranchers and suppliers around the Seattle Tacoma vicinity. Our event planning team will gladly create a menu that matches the theme or demographic mix of your event, within your budget. We welcome you to choose from our selection of delicious menus featuring many culinary specialties and ethnic styles.
With culinary backgrounds featuring stints as head chefs in many renowned Seattle restaurants, our chefs will ensure that the cuisine created specifically for your event is made from the freshest local ingredients with great attention to both flavor and presentation of every dish.
Venue Selection
As the preferred caterer for many of the Seattle, Tacoma vicinity's top event planners, Arista is able to offer our clients preferred booking options at both historic and cutting edge event venues. We are also able to produce your event at your venue or at one of the many unique facilities from our list of "Preferred Venues."
Professional Service
Our staffing will make your event as effortless as possible by providing the most experienced and professionally trained event managers, food servers, bartenders, bus persons, dish washers, chefs, hosts, and valets. Every event is staffed with a minimum of one coordinating manager who will be available to address your needs throughout the duration of your event.
Our Success Depends on Your Satisfaction
Our reputation is built upon our ability to provide our clients with the best possible service while meeting your catering budget requirements. Allow us to make your event everything you expect and much more.
We Guarantee Your Privacy
At Arista Catering, we are committed to protecting your privacy. Arista Catering does not sell, trade, or rent your personal information to other companies. We use the information we collect about you to process orders and to provide a more personalized experience. Arista Catering will not collect any personal information about you except when you specifically and knowingly provide such information to us.
How Do We Use the Information We Collect
When you order, we request your name, e-mail address, mailing address, telephone number, credit card number, and expiration date. This allows us to process and fulfill your order and to notify you of your order status.
When you enter a contest or other promotional feature, we may ask for your name, address, and e-mail address so we can administer the contest and notify winners.
We may also use the information we collect to notify you about important changes made at Arista Catering and special offers we think you will find valuable.
By using our Web site, you consent to the collection and use of this information by Arista Catering. If we decide to change our privacy policy, we will post the changes on this page so that you are always aware of what information we collect, how we use the information, and under what circumstances we disclose the information.
If you are under 18 years of age, you must have your parent or guardian's permission to order.
Our company is based on the belief that our customers' needs are of the utmost importance. Our entire team is committed to meeting those needs. As a result, a high percentage of our business is from repeat customers and referrals.
We would welcome the opportunity to earn your trust and deliver you the best service in the industry.
Location:
1920 Dexter Ave N.
Seattle, WA 98109
Hours:
Mon – Sat: 7AM – 11PM
Sun: 9AM – 11PM
Service Upgrades
Linens:
Seating Tablecloths $17.00 (90"by 90" white, black, ivory)
Seating Tablecloths $25 (120" round)
Linen napkins $2.00 each
Table runners $10.00
Chair Cover with Sash $3.75
Zero Waste Catering: $0.95 per person
ARISTA Catering is proud to offer environmentally responsible low waste catering. Biodegradable products are made of fully compostable, renewable resources (corn, sugar or potato resin). The charges associated with this service covers additional costs involved in securing these products. Catering will continue moving toward this as our standard. Most menus will require some level of menu customization when choosing low waste to assure there is no undue waste generated. Low waste events require a minimum of 3-4 weeks advance notice and must be coordinated with Catering. Please note, biodegradable utensils do not have the strength of regular disposables and are not recommended for all menus.
Upscale Disposable for Breaks, Meals & Receptions:
Upscale black, chrome or clear plastic ware $3.75 per person
China Service for Breaks/Receptions: $6.25 per person
China six inch plates and stainless steel cutlery (as needed) Glass stemware for (ordered) cold beverages, China cups and saucers for (ordered) hot beverages disposable paper napkins
Centerpieces
Mirror tiles are available to rent for $12 each

Votive candles are available to rent for $1.50 each

Floral bud vases are available to rent for $39 each (flowers may be kept, vases may not)
Floral centerpieces are available for purchase for $95 each (flowers & vases may be kept)
Custom centerpieces are available. Please inquire with your consultant.
Place Setting for Conference Service for Buffet Meals: $6.75 per person
China plates on the buffet table
Rolled linen napkins with stainless steel cutlery on the buffet
Pitchers of cold beverages on the dining tables with hard plastic tumblers
Hot beverages on a table in the room with regular disposable or upscale plastic cups
Seating tablecloths are included for the dining tables
Abbreviated China Service for Buffet Meals: $7.95 per person
China plates on the buffet table 
Rolled linen napkins with stainless steel cutlery on the buffet
Pitchers of (ordered) cold beverages on the dining tables with glassware (ordered) 
Hot beverages on a table in the room with china cups and saucers. 
Seating tablecloths are included for the dining tables
Catering Server Labor: $220 per server
Professional waiter in black button collared shirt and black dress pants to handle set up, service of buffet, bussing and, clean up after party for up to 5 hours from the start of the party until we leave (additional hours available at $25 per hour).
Chef Labor: $50 per chef per hour
To add to the ambiance of your event, let one of our chefs put on a show for your
guests! Whether barbecuing on site for an outdoor barbecue, demo cooking at a made
to order omelet station, or carving a prime rib roast at the end of the buffet line, our
chefs are available to assist you.
Multiple Entrée Services: $4.00 extra
A multiple entrée is two or more different entrees offered on a plated menu. Assigned
seating is the easiest and most accurate method for serving multiple entrees. If you
desire this service, we recommend that each guest is assigned a place and a color coded
dot is put on the place card indicating the guests' entrée selection. A less accurate alternative to assigned seating is for each guest to be given a color-coded ticket to indicate their entrée selection when they arrive at the registration table. The guest must place the colored ticket near their water glass to indicate the entrée selection to the wait staff. Please allow additional service time for multiple entrees.
Meals with Limited Time for Service:
You should allow approximately one and one half hours for a full service plated or
buffet meal. If time is limited we recommend that the salad and/or dessert be preset
prior to your guests being seated. If speed is of the essence, avoid choosing multiple
entrée service for your meal as it does take longer. Most importantly, if you only have
limited time for your meal service, please indicate this on your order so catering staff
can be prepared.
Receptions:
Receptions include high quality paper products and can always be upgraded (see
upgrade options). Attendants are required at receptions when both hot and cold food
items will need to be replenished. An attendant will maintain the appearance of the
buffet tables and see to your guests' needs. Attendants are required in all instances
where food needs to be replenished. If they have not been ordered on your catering
contract they will be automatically added. If you prefer to have hors d' oeuvres or
beverages passed on trays, additional attendants can be provided upon request.
Clients are charged $25 per attendant per hour for actual hours of service, with a
minimum of one hour, rounded up to the nearest hour.
Budget Menus & Picnics:
Buffet and beverage tables will be set with linen and high quality paper products.
Guests serve themselves the buffet and beverages. Catering staff will replenish the
buffet table and assist guests as necessary. Linen can be provided for the dining tables
at an additional cost. If you require event service longer than the initial buffet set up and later takedown, additional labor charges apply at $25 per attendant per hour.
Advance Notice:
• Orders are required two weeks (14 days, excluding holidays) in advance and should be placed with ARISTA Catering. Occasionally, our calendar may already be full for a particular day. If possible, place an email FYI order detailing your catering date, time and type of service needs with the menu noted "to be announced" as soon as you know you will require catering services. This will put your event on our calendar to hold the date. This hold does not take the place of submitting a complete catering deposit two weeks in advance. Reservations are only guaranteed by a deposit of either $1000 or 50% of the estimated catering order (whichever is less).
• Events occurring on Holidays (excluding Father's Day, due to commencements) are subject to an additional 25% service charge. Those holidays are: Martin Luther King Jr. Birthday, President's Day, Easter Sunday, Mother's Day, Memorial Day, 4th of July, Labor Day, Veterans Day. Additional charges may apply on Thanksgiving Day, Christmas Eve, Christmas Day, New Year's Eve & New Year's Day. Discuss with our catering consultants.
• Complete a separate order for each time of service, each location, and each day of service. Each order must include a complete menu selection and timeline. Due to product availability, quality and unforeseen market price fluctuations, prices are subject to change without notice. Once an order has been accepted by the catering office prices are guaranteed. We will make every effort to provide the exact product ordered however, product availability and/or quality may affect this at times. Our sales staff will notify the client in advance of necessary menu substitutions when possible.
Submitting an Order with Less than Two Weeks Notice:
• Orders placed less than two weeks (14 days, excluding holidays) in advance will have a late charge of 15% of the total bill or $60, whichever is greater, applied to the final bill.
• Orders placed less than one week (7 days, excluding holidays) in advance will have a late charge of 25% of the total bill or $95, whichever is greater, applied to the final bill.
• Orders placed less than one week in advance may not be possible with the level of
service you desire. We will be happy to offer you other options available on short
notice. Late charges cover additional labor and food costs incurred as well as encourage timely placement of catering orders. If you place an order or request changes in style of service or menu with less than two week notice, we will give our best effort to meet these changes, but they are not guaranteed. If due to timing of orders and delivery of ingredients, we are not able to meet specific changes and a suitable substitute is available, we will use that substitute to get as close to meeting your goals as possible. Extenuating circumstances may sometimes prevent timely placement of orders, in these instances please inquire regarding charges.
Final Guest Counts:
When placing a catering order, please provide an estimated guest count reflecting the realistic number of guests you anticipate attending your event.
• A final guest count is due ten full business days (excluding holidays) prior to the event and must be emailed in. Catering will be prepared to serve a few meals over your final guest count to accommodate last minute guests for buffet and plated meals only.
• Billing is based on the final guest count, or the actual number of guests served, whichever is greater. If no final guest count is provided the estimated guest count provided will be billed.
• Guest counts increased after the final guest count deadline, which can be accommodated by catering, may be subject to additional charge.
Making Changes to Your Contract:
• To ensure the success of your event, only slight changes should be made to your order once it has been submitted. Once you have entered the final 10 business days prior to the event changes to the menu cannot be made.
• Any changes to your order should be made when your final guest count is due. Dramatic changes in count, style of service, location or date would necessitate immediate notification and cannot be made within 2 weeks or 10 business days of the event.
• Menu, style of service and event times may not be changed less than two weeks prior to the event.
• Changes in service that are called in after the final guest count, that be accommodated by catering, are subject to a processing fee of $125. Examples of service changes: change in event or pick up times, change in event location, addition of tablecloths or water service etc.
• All changes should be made via email once your order has been placed. Changes within 10 business days of your event cannot be guaranteed and are subject to the Chef or Catering Manager's discretionary substitution if they cannot be fulfilled.
Cancellations:
Full service and banquet events may be cancelled any time prior to two weeks (14 days, excluding holidays) before the event with no charge. 
Full service and banquet events cancelled less than two weeks (14 days, excluding holidays) before the event will result in a $200 processing fee or 33% charge of the total price of all items ordered, whichever is greater.
Orders cancelled within 72 hours of the event for any reason (including inclement weather) are not eligible for a refund and will result in a 100% charge for all items ordered.
Corporate breakfasts and lunches
Cancellation Time
Less than 2 business days:  There is an option to apply 100% of the deposited amount to a rescheduled future date or receive a refund of 70% of the deposited amount.
Less than 1 business day: There is an option to apply 100% of the deposited amount to a rescheduled future date or receive a refund of 35% of the deposited amount.
Leftovers:
Due to health regulations, perishable leftovers may not be removed from the event site. ARISTA Catering will not be held responsible for food items removed without our knowledge and prior consent. If catering equipment is removed from the event site appropriate charges will be added to the final bill.
Specialty Linen & China Rentals:
Catering will coordinate renting specialty linens, additional china, tables, chairs and any other rental items that we cannot provide in house for our clients on an event by event basis or clients may choose the rent them on their own. The total rental bill (including all shipping/delivery charges), plus 20% will be passed on to the client for Catering to coordinate this service. Specialty linens must be ordered a minimum of two weeks in advance and are subject to availability from the specialty vendors. When ordering specialty linens it is important to order enough linens to accommodate the final guests and table counts. These can fluctuate greatly at times, if you think there is even a remote possibility the guest count will go up you will want to pad your linen order accordingly. Always pad by one as a minimum in case linen comes damaged or the wrong size. There is no guarantee that once an order has been placed with our vendor that it can be changed. Catering is not responsible for damaged or lost linens. With china rentals, we will rent 5% above the guest count that will be set.
Tables, Barbecue Grills and Flowers:
• Catering does not provide tables, chairs or barbecue grills.
• When tables must be set up or moved by catering staff, appropriate charges will be included on your final bill.
• Flowers or foliage are included on some buffets at no extra charge, however they are not guaranteed and are subject to availability; you may also choose to provide your own. Flowers and greenery provided by Catering which are removed from the event will result in appropriate charges being added to the final bill.
Catering and To-Go Services:
ARISTA Catering caters a wide variety of events including weddings, birthday parties, anniversaries, corporate and community events.
• Some of our menu items can be ordered to go and are available on a pick up basis for any occasion.
Custom Menus, Special Services, & Special Guests
• You can customize any menu to fit your needs or we can create a custom menu that will suit your tastes and budget. Environmentally friendly catering and sustainable menu choices abound, please ask your consultant for details. We also have a wide variety of seasonal menus available.
• You may mix and match any menu items; please allow catering two weeks to provide you with a cost for a custom menu. We can also create a menu to match the theme of your event with decorations to match! Our staff can assist you in planning your menu, selecting the appropriate setting, developing a theme and providing the right atmosphere, including decorations to accentuate your theme or add to the ambiance. In addition, if there is a special menu item you have had somewhere else we would be more than happy to try to bring it in for your event from an outside vendor. Necessary charges will apply for this service. We can also use a special family recipe if you provide it for us well in advance of your event. ARISTA Catering will make every effort to make your event a success in any way we can!
Special Diets & Children's Meals:
• Special diets ranging from children's meals, low sodium, low fat, vegetarian, vegan, lactose intolerant, gluten free, food allergies and limited kosher can be accommodated for a 25% up charge. You must approve the changes in the menu including the specific menu description 2 weeks prior to your event via email. If you have specific specialty requests, you must provide the description so that our chef's can interpret your wishes. Please contact our office to discuss options. Indicate the need for a special plate on your contract when ordering with the exact restrictions that we need to follow.
• There will be an additional 25% charge for special diet plates; please inquire with your consultant.
Menu Tasting:
Specific (non-standard) menu items may be sampled to assist you in making menu decisions at a tasting. Tasting requests require one month's advance notice and must be scheduled around the Executive Chef's schedule. We request that tastings be limited to two representatives from your group/committee in order to facilitate decision making. Requests for more than three different entrees, or if more than one plate of any single entrée is requested for a tasting, additional items will be billed at the full menu price on the final event bill. We require a credit card for tastings because a charge of $150 will be applied to your catering bill if your total catering is less than $2500 or if you require a second tasting. If you decide not to do the catering after the tasting, your card will be charged the $150 tasting fee.
When you want delicious food but don't have the need for a full scale production, a less formal drop-off catering is perfect for you. Your food, beverages, and serving utensils are delivered and setup for you by an experienced Arista team member.
This is a picture of a disposable chafing or hot holding system that Arista Catering uses for drop off or express cateringIf your order calls for drop off service with hot food, we provide and set up disposable hot holding chafering pans for the hot food. At the end of the event, the hot holding equipment is disposable. This is perfect for informal gatherings and events with higher drop off delivery fees. Tacoma events are much less expensive with this style of service.
Express Service is a great option for the following scenarios:
When you need flexibility around your serving time to accommodate your guests, use express catering. For example, Express Service works for meal times such as in-house trainings, seminars, family reunions, and more.
When you have a small intimate gathering with a menu that calls for self-catering you can order express catering and receive all of the credit.
When you have to accommodate different serving shifts and need food to last over a long period of time, use express catering.
When you want to provide a catering option for your employees so that they don't have to leave the facility to buy food, call for express catering.
When you need to save on the catering budget but still want delicious food, Express Service is perfect for staff meetings, informal staff appreciation events, and more.
When you want the ease of having great food delivered, Express Service is great. Office parties, late-night work sessions, and small holiday catering parties are ideal for express service.
When your catering budget is low at the end of the year, you can save money on your holiday catering parties by usine the express catering.
Set Up with Pick up
This catering service is part of our corporate express for when you want the nice touches of a full service buffet while maintaining the informality and flexibility of a drop-off express catering. Arista Catering employees will setup and display the food and provide fine china, stem ware, hotel chafers, and silver platters for the food. The beautiful food presentation creates an upscale impression with your guests and sets the tone for your event. After your event, Arista Catering's delivery team returns to the event to pickup all the serving items.
Less than 2 business days: There is an option to apply 100% of the deposited amount to a rescheduled future date or receive a refund of 70% of the deposited amount.
Less than 1 business day: There is an option to apply 100% of the deposited amount to a rescheduled future date or receive a refund of 35% of the deposited amount.
Delivery Information
All weekend deliveries and any deliveries after 5PM require a minimum of $500 food/beverage purchase plus tax and 18% gratuity. Other delivery charges will vary depending on travel times, clean up, and rental service.
Location/ Delivery Fee/ Pick Up Fee/ Minimum Order
Bellingham  Silverdale  Enumclaw  Tacoma  Olympia
$200 N/A $1500
Everett Arlington Edmonds Lynnwood Bremerton Bainbridge Puyallup Snohomish North Bend
 $100 $100 $1000
Des Moines Auburn Bothell Kent Renton Federal Way Fife Snoqualmie New Castle  SeaTac Duvall
$50 $50 $750
Mercer Island Bellevue Seattle Kirkland West Seattle Shoreline Redmond Issaquah  Kenmore 
 $25 $25 $500